ULTRA-LITE TARPS
Home Standard Tarps Specialty Shelters Solid Fuel and Alcohol Stoves Packing Solutions Rain Gear Sleeping Bag Liner Miscellaneous Where To Buy Contact Us NEXT

Made with 1.1oz. silicone impregnated rip stop nylon. We use a higher denier count nylon which gives the product the best strength at the lightest weight. We use tabs, evenly spaced, instead of grommets because they are stronger and more durable, as well as easily field repairable if the need did arise. Colors: Grey, Lime, Black Berry, Lemon, Burnt Orange
Why 10 Feet Long? After plenty of research, any shorter than 10 feet is either difficult to set up or too short to ensure your sleeping bag and gear can stay dry on a rainy night.
WHY TABS INSTEAD OF GROMMETS? Tabs will last longer, and if field repair is necessary, can be done with dental floss and a needle. When grommets come loose, they will either cut or tear through the material.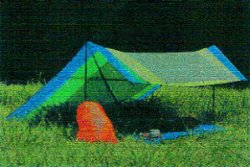 6' x 10'
8' x 10'
10'x 10'
Buy online at Etowah Backpacking Adventure Gear Store

Etowah Outfitters Search
---
Standard Tarpaulin
Made with 1.9oz. nylon taffeta or rip stop, coated with 1/2oz. of urethane, with 3/4in.webbing tabs evenly spaced along the edges. 6' x 10' and 8' x 10' tarps have a single tab placed in the center. 10' x 10' & 12' x 10' tarps come with three tabs place evenly along the center seam. Colors: Forest Green, Royal Blue, or Black
6' x 10' "THE HIKERS CHOICE"* Big enough for two, perfect for one ,light enough to carry for any situation. 12 tabs, wt. 18oz.

8' x 10', 12 tabs, Weight: 24 oz,
10' x 10', 16tabs, Weight:32 oz,
12' x 10', 16 tabs, Weight: 40 oz,
Buy online at Etowah Backpacking Adventure Gear Store
Etowah Outfitters Search