Etowah Outfitters, Simple, Durable Ultralight Backpacking Gear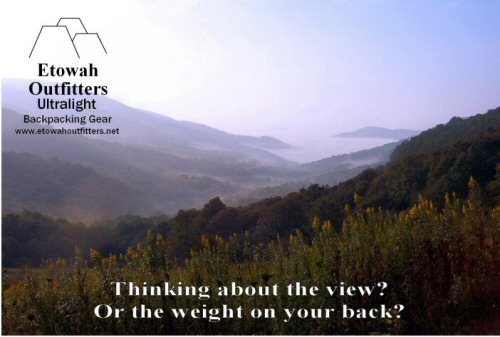 br>
Visit our new online Etowah Gear Store
Etowah Outfitters is a southern manufacturing company which specializes in ultralight backpacking, bushcraft and adventure gear such as solid fuel and alcohol stoves, ultralight weight tarps and tents, rain gear, Rainwraps, and stuff bags used in boy scouts, adventure racing, backpacking, camping, kayaking, canoeing, adventure travel and outdoor sports. No matter what kind of outdoor activity from day hiking to woman adventure travel, our equipment and products can lighten your load and enhance your outdoor experience.
THE STORY
Etowah Outfitters came into existence in 1991 when as a addicted backpacker, I came to the conclusion, my pack was way too heavy. I longed for the days when as a teenager my pack never seemed to weigh more than 30lbs., not even on week long hikes. After looking at an old pack list, I realized the problem; more gear ,more toys, and more weight. The backpack had turned into a three bedroom condo.
I remembered how simple it was, grabbing the pack, sleeping bag and pad, the small pot, with fork and spoon, water bottle(actually a canteen), food, change of clothes, poncho, and a tarp with ground cloth to start a new adventure. Off, I would go!
What happened? How did backpacking get so complicated? For me, it was simple, I was taking a bit too much of home with me. I had gotten use to items and gadgets to make my time more pleasurable, and forgotten that there was a price, more weight.
The focus of our small company has always been to make simple gear as light as durability will allow with maximum functionality for the outdoors. This is our passion. Things has changed and will continue to change in the outdoor industry, but one principle still holds true, simply made gear will always be the pieces that will never let you down, break, or shred in a time of need.
Thank you for the privilege of providing simple gear for the last thirty plus years. We look forward to providing ultralight camping gear for many, many, more.
"Chef Paul"Fitzner Etowah Outfitters
Buy direct from the Etowah Backpacking Adventure Gear Store
Lists of camping gear outlets. If you are looking for a local or online supplier of camping equipment these lists should help.
Outdoor Gear Catalog for the ultralight backpacker. Specialty tarps. Alcohol stoves and more.
Backpacking Gear reviews for Etowah Outfitters products.
Outdoor news for backpacking, camping, outdoor sports and anyone who prefers outside to inside.
Ultralight backpacking buzz. You will be able to get the buzz about new postings in the magazine and on the site.
This backpacking magazine, Etowah Outfitters Buzz will present info on backpacking and camping in a unique way.
Alcohol stoves for hikers. Solid, rugged and reliable for your ultralight backpacking backwoods adventure.
Ultralight backpacking food and cooking tips to enhance your backpacking meals
directions for making a 3 1/2 sided shelter with a tarp in under 3 minutes
The best backpacking tarps for lightweight backpacking and hiking weigh well less than a pound, are designed for quick and easy setup and are easy to repair in the field.
Ultralight silicon tarps for the serious long distance hiker.
Ultralight tarps for outdoorsmen. Don't wear yoursef out with extra weight. Take o the woods with an Etowah Outfitters ultralight tarp.
How to backpack tips including what and how to pack, links to videos,ideas on where to go and more in the Etowah Outfitters backpacking magazine
Ordering information for our retailers. Access code required. To order an access code, e-mail us at etowahoutfitters@netzero.com
Retailers only. Requires access code.
Meandering thoughts of Etowah Outfitters owner for the perusal of the ultralight backpacking community
trail recipes for the ultralight backpacker
An excellent Trail Days Video documentary of the 2009 event in Damascus, Virginia.
Outdoor Retailer Show in Salt Lake City. Videos, Blogs, Tweets and more.
Other sites that are into adventure travel
Contact Us Form
What's new at Etowah Outfitters