Backpacking Tarps: Super Ultralight Backpacking Tips
The best backpacking tarps for lightweight backpacking and hiking weigh well less than a pound, are designed for quick and easy setup and are easy to repair in the field.
Lightweight Backpacking Equipment
When a camper decides to shift towards lightweight and ultralight backpacking he has to start making decisions regarding the big three components of his outdoor kit. Shelter, pack and sleeping gear. This page will talk about shelter for ultralight backpackers. Lightweight tarps made of silnylon.
"Most men are needlessly poor all of their lives because they think they must have a house as their neighbors have,"an old woodsman said more than a century ago. "Consider how slight a shelter is absolutely neccessary." - p79, On Your Own in the Wilderness, 1958, Townsend Whelen & Bradford Angier ISBN 88365-004-5
Most backpacking tents made of modern materials will weigh 3 pounds or more. A tarp made of modern space age material will weigh half of that or even less. For comparison check out the tents from GoLite. Their Xanadu1 model, one person tent weighs 2 lbs 15 ounces. An ounce short of three pounds. It costs $325. That's another advantage of tarps. They cost less. Here are some numbers for ultralight backpacking tarps from Etowah Outfitters.
Will of Sundog Outfitter demonstrates the easy setup of an Etowah 8' x 10' tarp in this two minute how to video. This three sided setup will provide shelter for two hikers. The opening is usually set away from the wind to keep rain and bugs from blowing into the shelter.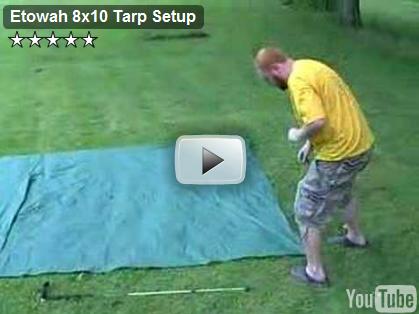 One disadvantage to using a tarp can be bugs. This can be overcome by selecting a campsite away from standing bodies of water or in more open areas where breezes will carry the pests away. Some hikers carry mosquito net also and, of course, bug repellent.
Easy to Maintain
Etowah Outfitters' tarps use sewn in tabs instead of grommets to reduce the chance of tears. If one does pull out it can be repaired with needle and thread.
The waterproofing in silnylon should last for years under normal use. Washing in a washer with detergent will damage the waterproofing. Occasionally the seams on any piece of outdoor equipment may begin to leak. To repair stretch the tarp out and use a silicon waterproofing spray. For seams use a liquid silicon application. These can be found at most stores that sell camping gear or shoes.
Etowah Outfitters Tarps
Etowah Outfitters super ultralight backpacking tarps for outdoorsmen who would rather keep their mind on the view instead of the weight on their back.
Etowah Outfitters Standard Backpacking Tarps
Etowah Outfitters Specialty Backpacking Tarps